WELCOME TO
Vacation Rentals Finger Lakes Restaurants Summary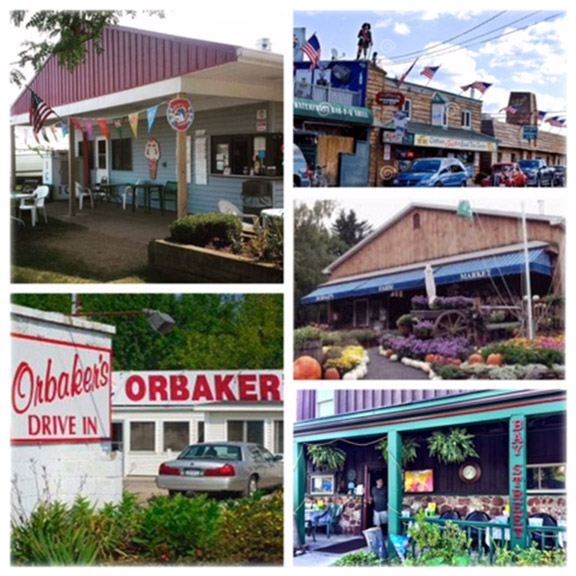 Hey Sodus/Finger Lakes area vacation cottage guests! So we've covered a lot of notable restaurants in the area in the past few months. But let's say you're staying at one of our cottages in the Sodus area right now, and it's already dinnertime, and you need to decide on a restaurant soon. You probably don't have the time to go back and read all of those individual reviews; so we're using this blog as your abridged restaurant guide. We've condensed each restaurant review into a short synopsis, designed to give you an overview and help with quick decision-making!
WELCOME TO
Sodus Area Restaurants
Orbakers
Open since 1932, this drive-in restaurant has a distinct '60's diner feel - complete with tons of burger options and malts to die for. Orbaker's is the perfect stop for a quick lunch or dinner if you're in a hurry. While known for their all-American grill options like burgers, hot dogs and fries, the restaurant also serves a nice variety of sandwiches, wraps, salads, and even steak. Or, Orbaker's is a great stop if you're craving an ice cream cone – they offer soft-serve as well as dozens of Perry's hard ice cream flavors to choose from – perfect for a hot summer day! Seating available at the bar and outside, as well as their semi-new air-conditioned dining hall addition.
El Rincon
If you like Mexican food, El Rincon is the place for you. This restaurant serves the most authentic and delicious Mexican cuisine we have ever had – and for an affordable price, too. The influx of migrant workers in the Sodus area due to the seasonal fruit farming industry allowed for the inception of this delicious eatery. And the inside is filled with festive decorations – bright colors and cultural ornaments that, when paired with the authentic dishes, will make you feel like you stepped right into Mexico.
Bad to the Bone BBQ
If you're planning a party or get together with friends, and need a catered meal – look no further than Bad to the Bone Barbeque. Known for their authentic, down-home barbecue cooking, the restaurant has won trophies for the best barbeque food in Rochester on multiple occasions. Barbecue chicken, pulled pork, ribs, corn on the cob, potatoes, corn bread…all staple entrees and sides available for catering or eating in. Bad to the Bone also offers other options like fried chicken, fish, and even sandwiches or burgers.
Steger Haus
Looking for a nice sit-down restaurant, and in the mood for something a little different? Steger Haus is a great option, specializing in both German and American cuisine. They have the seating to accommodate both large banquets and intimate family dinners, and every entrée comes with access to the salad bar. Steger Haus is open Tuesday to Sunday year-round, and also full-bar service – so stop by for a few drinks with some friends, or order a few glasses of wine at dinner! Keep an eye out also for their ongoing specials: $13.95 prime-rib Wednesdays, or stuffed pork chops for $17.95 on the first Saturday of every month. A great lunch or dinner option for the whole family.
Burnap's
Burnap's Farm Market and Garden Cafe is typically known best for the "farm market" part of their title over the "garden café" part. They sell delicious fresh fruit, baked goods and ice cream, and their playground, goats to feed and seasonal corn maze make them a perfect place to let kids run around while enjoying a treat. But Burnap's has recently expanded both seating and full-meal menu options, making it a great place to stop not only for a quick treat - but for lunch or dinner, too. They offer a number of different salads, wraps, sandwiches and pizza, as well as a kids' menu. And don't forget to take some of their famous farm-grown fruit for the road!
Nick's Family Restaurant
Nick's Family Restaurant is a classic in Sodus, and as the name suggests, great for the whole family. They offer all sorts of dishes, and are especially known for their affordability. An extensive breakfast (and breakfast for dinner) menu, sandwiches, salads and wraps, burgers, seafood, chicken, steak, Italian…the list goes on an on. Go for a late breakfast or brunch here with the kids, or stop by for dinner when your group can't decide on what they're in the mood for. Nick's specialty is variety.
WELCOME TO
Sodus Point Restaurants
Captain Jack's Good Time Tavern
Probably the most well-known restaurant in Sodus Point, Captain Jack's is open year-round and not only offers prime seating next to the lake – but even several private docks to park customer boats while they eat! The restaurant's popularity stems not only from their great location, but also from the number and variety of dishes offered on their menu. Salad, sandwiches, burgers and steak, chicken, ribs, pizza, seafood…there's something for everyone. Kids' menus are also available. Captain Jack's offers a great example of Sodus Point nightlife: they're open until 2am on the weekends, with live music (and often lots of dancing) throughout the summer, as well as fourteen screens of sports to choose from.